Tell us what type of hatch you need and we'll supply it. Raised or flush; lift-off or power operation; high or low pressure requirements. We specialize in the design of moderate size hatches, many with unique hydraulic, pressure, and space constraint requirements. Finite element analysis and high strength materials are often used for weight optimization and for design considerations such as wheel, cargo, and tie down loads.
Lift Off Hatches
Lift off hatches are designed for removing and installing by means of cargo handling equipment. Flush lift off hatches use rotating dogs, while raised lift off hatches can use either dogs or bolts. These hatches are generally less expensive than power operated hatches, however the rely on
the availability of cargo handling equipment for operation.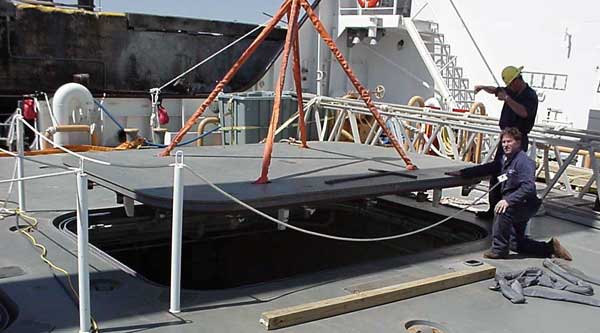 Power Operated Hatches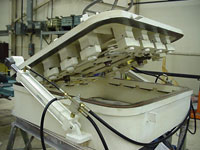 Walz & Krenzer knows hatches, especially mid to small size ones. 
Hatches larger than 48" or those designed for high pressure usually require some type of power assist or hydraulic operation due to their weight. Options include complete power operation or power opening and closing of the hatch with manual dogging. All hatches can be flush or raised, depending on their location. All control systems, whether they are for hatches or doors, can be supplied intrinsically sage and/or explosion proof.