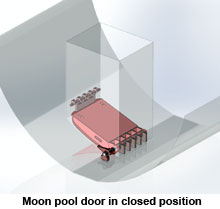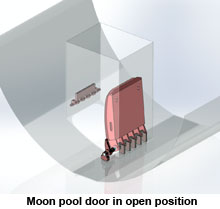 Moon pool doors close off the opening where the moon
pool intersects the vessel shell. Moon pool hatches cover
the top of the moon pool. Both allow for safe and efficient
deployment and recovery of divers and manned or
unmanned vehicles. Design considerations include extreme
weather, temperatures, ice loading, static and dynamic water
pressure, and vessel motion during deployment/recovery.
Configurations include single or multiple panels with sliding
or hinged operation. Both products can be supplied in
watertight or non-tight designs. As with all of our designs,
controls include local and remote operation and indication.