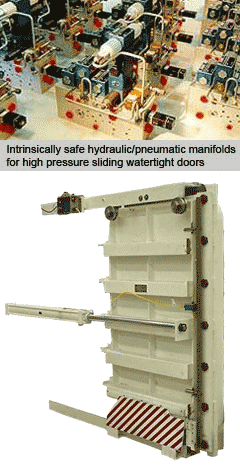 Walz & Krenzer, Inc. is the pre-eminent supplier of high pressure watertight doors for the deepwater sector. Designed for head exceeding 100' (30.5m), these doors are usually accompanied by stringent quality assurance requirements, and often require special manufacturing processes. We excel in careful attention to details and quality manufacturing. Full hydrostatic testing is available as is often required by regulatory bodies.
Due to their sensitive locations, high pressure doors often require more complex operating equipment, such as explosion proof or intrinsically safe controls. Both sliding and hinged doors are available with either manual or power operation, including remote indication and/or control.
Special consideration is given to corrosion resistance due to high moisture levels in the lower section of drill rigs.
High pressure doors are available in any size, for any location, and for just about any pressure.