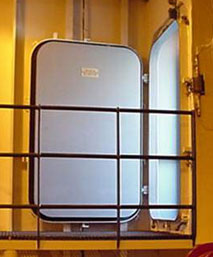 Available for practically any size door for pressure requirements ranging from weathertight to 100' heads.
New ABS rules require that hinged doors located at or below the deepest load line draft in column-stabilized and surface units have remote control. WK has provided power operated hinged doors that meet this requirement.
Both single and double door panel doors can be operated from both sides or from one side only. Options include view ports, remote indication and operation, cylinder assist, and insulation.