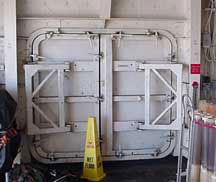 Since patenting rolling electro-hydraulic sideports in 1953, 
Walz & Krenzer has established a long and successful 
tradition of supplying superior quality sideports. Offering competitive pricing and fast delivery, WK sideports represent the most fully engineered, best built, and durable product available. Rolling, hinged inboard or outboard, double panel, hinged down to form a ramp, and other designs are available.